Jason L. Oliver
(626) 797-2777 Los Angeles and Pasadena, California
(415) 935-6904 San Francisco, CA
(877) 593-2777 Toll Free Call Anywhere in California
As an attorney for over 20 years, Jason Oliver has been helping people get justice since he became an attorney in 1996 and has spent his entire career helping people–not corporations.  In particular, Mr. Oliver has found a niche in helping victims of sexual harassment, and discrimination based on sex, pregnancy, race, religion, ethnicity, medical condition or whistleblower status.
In addition to cases of sexual harassment, Mr. Oliver handles personal injury cases as well. Mr. Oliver handles cases in Los Angeles and San Francisco, California.   Mr. Oliver's clients in sexual harassment and personal injury cases have recovered over 70 million dollars in jury verdicts and settlements.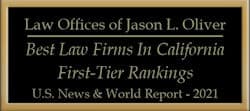 Since 2013, Attorney Jason Oliver has been selected by his peers each year for inclusion among The Best Lawyers in America in the practice area of Employment Law.
In 2009 through 2016, he has been named a "Super Lawyer" by Los Angeles Magazine.
Prior to that, in 2005, 2006, and 2007, Mr. Oliver was named a "Rising Star" by Los Angeles Magazine.
In October of 2016, Mr. Oliver was named among the"Top 100" Employment Lawyers nationally by National Trial Lawyers.
Mr. Oliver received a Juris Doctor degree from Southwestern University School of Law in 1995, where he was awarded the Special Achievement Award in Entertainment Law. He is a graduate of Gerry Spence's nationally acclaimed Trial Lawyers College. He is also a member of the following organizations: National Employment Lawyers Association, California Employment Lawyers Association, Association of Trial Lawyers of America,  Consumer Attorneys of California, Consumer Attorneys Association of Los Angeles, and the Los Angeles County Bar Association. Each of these organizations plays a unique role in obtaining justice for real, everyday people.
You may consult with Mr. Oliver, free of charge, by calling (626) 797-2777 (Los Angeles and Pasadena), (415) 935-6904 (San Francisco) or (877) 593-2777 (Statewide – Toll Free Call).